Private Cloud Printing
With PrintHand a company can deploy its own printing cloud running on-premises and within internal network infrastructure, providing enhanced security and performance. Once authenticated, mobile users can choose a printer from company directory and print to it no matter where it is physically.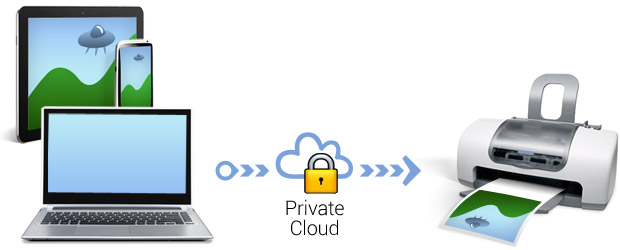 Computer users can print to the private cloud too by selecting special PrintHand driver available for all major versions of Windows and Mac.
The company may enable users outside the physical network to connect to it via VPN, or opt for exposing the cloud externally through a controlled gateway.
Each printer needs to be shared in the cloud by PrintHand client software running on a computer with access to the printer (directly, via network or by any other means). Administrator controls sharing and security options for each printer. For example, certain user groups may only print to a limited number of printers, while advanced users can access all the printers in the cloud. The administrator can manage a policy for each printer. For instance, incoming print jobs may need approval before printing. At the same time jobs from certain users may go directly to the physical printer.
PrintHand does not send files but instead generates and encrypts a set of commands for the target printer (print job). If the printer of computer sharing it is not available at the time of printing, print jobs will be cashed by the cloud, with guaranteed delivery when the target printer and computer go online. Administrator can monitor printing queue in the cloud, resume or delete print jobs if necessary.
The communication within the cloud is protected by several layers of security. All print jobs are encrypted by Advanced Encryption Standard (AES) technology with 256-bit key, the strongest available for commercial use. The data is sent and received over the network encrypted by Secure Socket Layer (SSL). PrintHand mobile and computer clients communicate with the cloud (the server) via standard HTTPS protocol working seamlessly in any corporate network environment.
Of both sending and receiving end are on the same local network, only the control information will be sent through the cloud but actual print jobs (most of the data load) will be sent directly.